Trent R.
Tuesday, May 29, 2007
Anybody heard the new NIN album yet? Opinions? I know a lot of it's available for listening online, but I haven't made the time yet.
Also, I once saw Trent Reznor at the Pittsburgh airport. He got his own bags after flying up from New Orleans on the same flight as Lil' Stack. Here's a quick list of other interesting people I or my bro have seen on planes or in airports: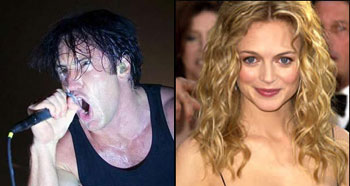 Your call.
Joey Porter
Lil' Wayne
Barry Melrose
LL Cool J
That guy who thought King Arthur invaded Iraq
Sadly for LL and crew, none of them will ever top the time I made the scene with Heather Graham. In that quarter-second of eye contact at that Guggenheim art-collectors' ball in 2004 that I wasn't actually supposed to attend, I'm telling you: connection.