So Long, D.C.
Tuesday, May 20, 2008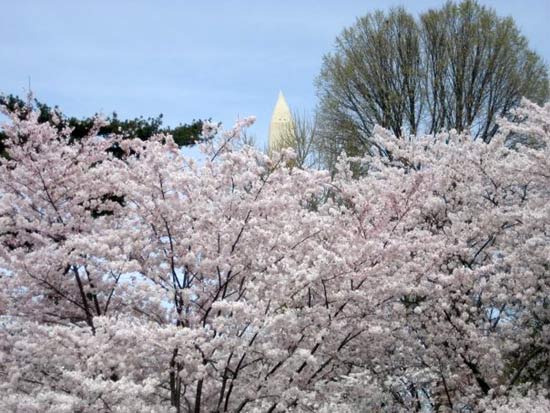 What I'll Miss Least: The transient nature of the city–at least the whitey part of the city. (NW, plus Capitol Hill SE and NE where we live.) I can't shake the feeling that most people are here just to soon go somewhere else, and thus it's harder to feel settled here than it has been in other mobile, creative neighborhoods of cities where I've lived. With NYC abuzz 24-7, settled was a relative term, but at least it makes everyone feel like one of the bees in the hive.
First runner up: The summer heat and humidity. Like swimming without a pool!
Also placed: Our old-ass apartment with its lack of air circulation and power outlets; confusing and poorly labeled road system; not enough going-out neighborhoods and the tiny size of the ones that exist; Metro delays, large areas of the city unserved by Metro trains and the lack of conductors who don't pronounce "Judiciary Square" as "Ju-dish-u-ary".
What I'll Miss Most: Being in the political heart of the U.S. and everything that comes with it. In no other town in the U.S. can you to walk up to a random person in a bar and find out they work as a State Department liaison to Pakistan, or as an assistant for Ted Kennedy, or as a journalist working on an in-depth book about the failure of the Bush presidency. (And there's never a shortage of the latter.) With the government comes the media swarm in which I work and the lobbyists, consultants and hangers-on that are part of how the country runs. Most people would probably find this group to be disgusting, and it often is. But if you want to be a part of the national conversation at the top level, this is where to bring the microphone.
First runner up: The great places to do some roadwork. My default running spot was the National Mall and surrounding area, and that was just as cool as it sounds.
Also placed: The cherry milkshake from Ben's Chili Bowl; hot female Hill staffers walking around my hood; Eastern Market; the beautiful neighborhoods west of Rock Creek Park; the fact that while it was still old-ass (see above), you could walk out the door of our building and see the Capitol dome and the Supreme Court; being only four hours from Pittsburgh; the fish-taco combo at California Tortilla; cherry blossoms and the other spring blooms; free museums.
Wish us luck on the move tomorrow; nothing cheers the soul quite like loading, driving 900 miles and unloading a UHaul 17-foot truck full of all your earthly goods.
Chicago buds, see you soon.